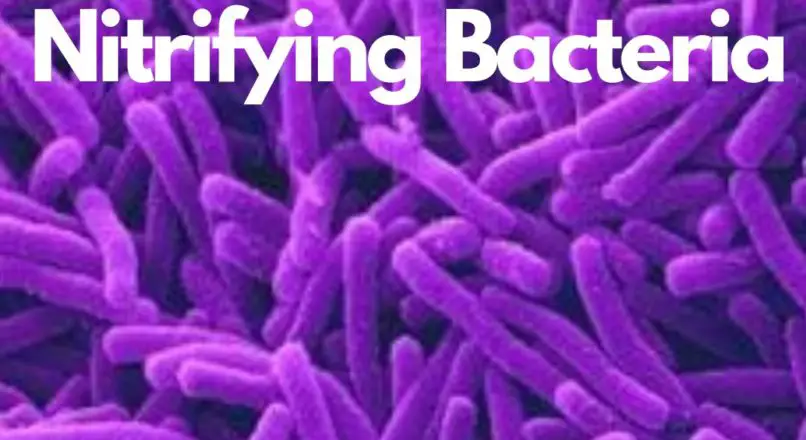 Nitrifying Bacteria

Nitrifying bacteria are those bacteria that obtain their energy source from inorganic compound especially from nitrogen. These are chemolithotrophic bacteria that are heterotrophs and obtain energy from inorganic compounds.
Examples
Nitrosomonas, Nitrobacter
Characteristics:
These bacteria are commonly present in the soil, water and sewage water. These bacteria obtain their energy from the oxidation of nitrogen compound. The oxidation of nitrogen compound takes place in 2 processes.
Ammonification
Nitrification
These processes take place by two different bacterial species. Specie oxidizes the ammonia into nitrate and then other species oxidizes the nitrate into nitrite.
Processes:
Ammonification:
Ammonification is the process in which the bacteria fix the free nitrogen from the environment to produce ammonia. This ammonia undergoes oxidation to produce nitrite.
NH3 + O2 → NO2 + 3H+
NH3+ O2 + 2H+ → NH2 OH + H2O
NH2OH + H2O → NO2 + 5H+
This process is taken place by Nitrosomonas, Nitrosospira
Nitrification:
Nitrification is the process in which nitrate is produced from nitrite. Nitrate is an available source of nitrogen for plants.
NO2 + H2O → NO3 + 2H
This process is taken place by Nitrobacter, Nitrosococcus.
Importance:
These bacteria are ecologically very important. Plants need nitrogen to fulfil their metabolic requirements and they can't use the free ammonia present in the soil. These bacteria uptake the nitrogen from the soil, oxidize it into nitrite that further oxidizes into nitrate. This nitrate is freely available for plants to take up and utilize it as their nitrogen source. These bacteria help the plant to grow. These bacteria can be used as bio-fertilizer to increase the fertility of plants